November Birthstones: Topaz and Citrine Properties And Benefits
November Birthstones
Birth Stone |
By: Ruchi Shah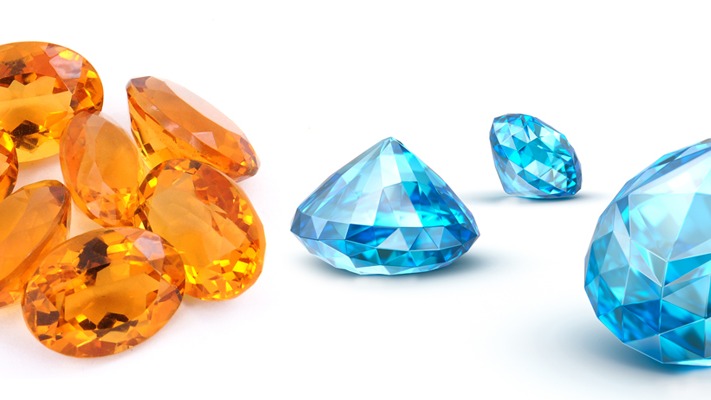 ---
If you're born in November, you're lucky to have two beautiful options to choose from: topaz and citrine – November Birthstones. Topaz further comes in a range of colors. Citrine is loved for its yellow-orange hues. Isn't it great? With these two one can practically have countless options.
GEMOLOGICAL PROPERTIES OF TOPAZ
Gemstone Topaz, the November birthstone has an exceptionally wide color range. The range includes brown, various tones and saturations of blue, green, yellow, orange, red, pink and purple. Colorless topaz is abundant, and is often chemically treated to give it a blue color.
Topaz Birthstone gets an 8 on the Mohs Scale of Hardness. Meaning, it's not very tough, so a hard blow might split it, and extreme pressure or sharp temperature changes might cause it to break.
Birthstone Topaz is Gemologists' favorite. Primarily, because it comes in some of the world's largest crystals. So much so, that the largest are measured in kilos, not carats.
ASTROLOGICAL PROPERTIES OF TOPAZ
Those who wear topaz for its astrological benefits, most likely go for the Yellow Topaz. Yellow, aka Golden Topaz is worn for health issues like joint pain, lower backache, elimination problems, obesity, constipation, anorexia and poor immune system function.
It is especially helpful for people suffering from diabetes, hypoglycemia, gallstones, nervousness, low energy, muscle cramps, stomach problems, lumbar spine, liver disorders.
Golden Yellow Topaz aids in boosting your faith, and bring helpful people to your side to help you to achieve your intentions.
In general yellow topaz brings abundance, prosperity, health and faith to its wearer.
NOVEMBER BIRTHSTONE: WHERE DOES THE BEST TOPAZ COME FROM?
Brazil, is one of the most important sources to get high-quality topaz. Most colored Topaz ranging from yellow to orange, red, pink, violet and blends of red with orange or purple are sourced from here.
Pakistan is known for producing pink topaz. The most sought-after shade of pink topaz from Katlang has a tinge of violet. This is what some gemologists call cyclamen pink.
Other sources include Namibia, South Africa and Madagascar. Some Topaz are also found in Russia, Africa, China, India, Myanmar, Sri Lanka, Vietnam, United States and Mexico.
NOVEMBER BIRTHSTONE: WHAT QUALITIES TO LOOK FOR IN TOPAZ?
Color: Blue topaz and colorless topaz are the most popular ones, relatively widely available and affordable. Most of the blue topazes available in the market are color treated. Contradictorily, red and pink topaz are rare, highly cherished and hence carry a significantly higher price tag per carat.
Clarity: Needless to say, a good quality blue topaz is almost always free of eye-visible inclusions. Depending upon the rarity of the color, inclusions may or may not have a significant effect on the value of Topaz birthstone.
Cut: Gemstone Topaz is cut in a wide range of shapes and styles. This includes emerald, cushion, oval, pear, round, triangular, marquise and fantasy cuts.
Carat weight: In general, when the color of the topaz is considered rare, the per-carat price rises dramatically with the increase in size.
NOVEMBER BIRTHSTONE: GEMOLOGICAL PROPERTIES OF CITRINE
Citrine Birthstone comes in transparent pale yellow to brownish orange variety of quartz. The finest citrine has a saturated yellow to reddish orange free of brownish tints. This color comes from traces of iron.
Citrine gemstone is actually rare in nature. Most citrine present in market are fundamentally the result of heat treating amethyst.
Citrine is the top-selling yellow-to-orange gemstone. Their eye-catching color, in addition to durability and affordability makes them a popular choice. Gemologists love Citrine because of the modest price.
ASTROLOGICAL PROPERTIES OF CITRINE
Birthstone Citrine is supposed to remove negativity from the mind of the wearer. It possesses inherent spiritual effects said to enhance positive energy and reduce depression. This leads to emotional growth with increased clarity and self-confidence. Gemstone Citrine is believed to bring about success and prosperity.
NOVEMBER BIRTHSTONE: WHERE DOES THE BEST CITRINE COME FROM?
Natural citrine is sourced from Bolivia, Spain, Madagascar, Mexico and Uruguay. Amethyst that's typically heat treated to a citrine color is mined mostly in Brazil.
Anahí mine, Bolivia produces a unique combination of amethyst and citrine in the same crystal. This, when the two colors appear together in a fashioned gem, it is called Ametrine. Anahí mine's Citrine typically ranges from orange-yellow to brownish/greenish yellow.
NOVEMBER BIRTHSTONE: WHAT QUALITIES TO LOOK FOR IN CITRINE?
Color: For the best Citrines colors are saturated, with very little to no brown component and range from yellow to orange-yellow to reddish orange. One should look for warm, sunny hues.
Clarity: Citrine usually lacks eye-visible inclusions. Visible inclusions in a pale-colored Citrine greatly reduce the value of gemstones.
Cut: Citrine is available in a wide range of standard shapes and cutting styles. In addition, many high-end gem carvers have fashioned the warm yellow gem into unusual fantasy cuts for distinctive jewelry and objects of the art.
Carat weight: Citrines occur in a wide range of sizes and stones up to 20 carats are readily available.
You can connect with genuine gemstone suppliers and dealers on Jewelxy - a dedicated portal for Gems and Jewellery industry.
Read Blog: OCTOBER BIRTHSTONES - TOURMALINE AND OPAL: WHICH ONE IS FOR YOU