Jewelxy Lifting Spirits Of Wholesale Jewelry Suppliers
Gems and Jewellery
People & Community |
By: Ruchi Shah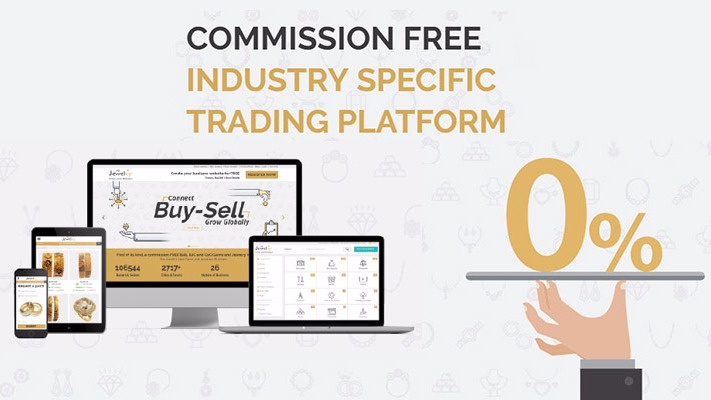 ---
The most awaited Gems and Jewellery industry specific portal, Jewelxy, is launching officially on 7th April, 2017. Jewelxy.com is a one stop Online Gems and Jewelry B2B, B2C & O2O Marketplace, which intends to offer jewellery businesses a One-Stop-Solution to promote their quality products and services.
Jewelxy offers:
Commission FREE trading platform.
Help businesses to be found on global market.
Bridge between buyers and sellers.
Increase business networking opportunities.
Advertise / discover new product and services.
Commission Free Trading Platform
With the vision to "Escalate the possibility of growth in Gems and Jewelry industry across the globe", Jewelxy sure is set to offer marvellous opportunities for everyone in the gems and jewellery business to discover, connect and explore worldwide through a Global Business Networking Platform.
Jewelxy is first-of-its-kind, a commission FREE B2B, B2C and O2O Gems and Jewelry Marketplace.
Be Visible, Be Attractive, Be Profitable
This is exceptionally beneficial for Gold jewellery wholesalers and wholesale jewellery suppliers to get the right kind of visibility their business needs. This is the ultimate place to find silver, gemstones, diamonds and imitation fashion jewellery manufacturers, suppliers, designers and craftsmen as well. Alternately, you can also be found by them. This two-way unique search feature helps the growth of jewellery business exponentially.
You can even find attractive deals from featured products. In addition, you can also use Jewelxy to check the latest trends in gems and jewellery industry and compare prices. Use this knowledge to feature your products with profitable margins.
Reputable, Reliable, Innovative Global Business Network
Jewelxy is the ultimate gems and jewellery industry specific networking solution where Jewellery Retailers, Manufacturers, Suppliers as well as Wholesalers connect with the Global Business Network Platform to garner recognition, secure deals and showcase their products and skills on the global scale.
The importance of networking can never be undermined, especially in today's cutting-edge business world. Jewelxy makes it possible for Gold jewellery supplier or gemstone suppliers or suppliers of imitation, silver or fashion jewellery or wholesalers from even a small town or remote location to sell his/her products to fellow businessmen anywhere in the world.
Create your business website for FREE
One can create their business website aka Digital Shakha for free on Jewelxy and join 1 lac+ businesses as their business network. Jewelxy provides you with the master tools to navigate with ease through Day-to-day Business tasks.
These Genius tools benefit you with several features, such as
Creating a business profile
Create an online catalogue to feature products and services
Buying and Selling tools:

List products to sell
Shortlist products to buy

Contact management system
Communication system (Send and receive messages instantly)
Business marketing tools
Social media for business
Performance and analytics
With all these effective features and the right marketing tools, Jewelxy sure is set to bring a positive business revolution in the Gems and Jewellery industry. Join in to bring your vision to life. Connect with fellow Jewellery businessmen, Jewellery retailers, Jewellery manufacturers and wholesalers, suppliers, Jewellery designers and many more businesses from the gems and jewellery industry.
Register your Digital Shakha for Free on Jewelxy.