PM Modi Motivates Gem and Jewellery Industry at Surat
News & Updates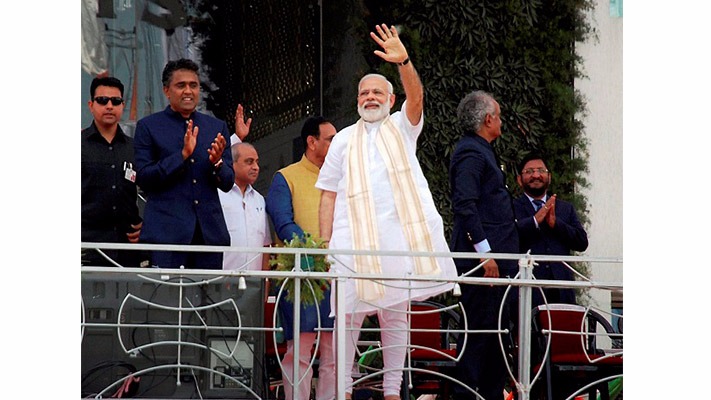 ---
Prime Minister Narendra Modi on Friday gave a very motivated speech for the diamond industry in Surat to take a lead in making India emerge as number one in the gems and jewellery sector.
Surat already is popularly known as the diamond city. After inaugurating a diamond cutting unit of a gem and jewellery firm at Surat, PM asks, "Enough of just diamond cutting and polishing work. The country has expectations from Surat. Should the country have it or not?"
He also insisted on reaching out on global map, saying "the jewellery designed in the country needs to be promoted across the globe".
Modi further adds, "We have become a diamond in diamond cutting. But now we have to be number one in gems and jewellery, and not only 'made in India' jewellery, but 'designed in India' jewellery needs to popularise across the world".
"Our jewellers have worked hard over the generations to design jewellery as per the seasons and moods. Our traditional jewellery designs have the potential to attract customers across the world," he said.
"Enough of just diamond cutting and polishing. We need to make consumers across the globe interested in 'designed in India' jewellery," Modi said.
To the diamond barons of Surat, he said "You can ask for any help from my government (in achieving this goal)."
Even though Surat is India's diamond cutting and polishing hub, the jewellery is made elsewhere, because of this the merchants here does not get much profit.
The Prime Minister was speaking after inaugurating a diamond polishing unit of Hari Krishna Exports at 'Hira Bourse SEZ' in Icchapore village on the city's outskirts.
You May Also Like: PM MODI INTENDS TO MAKE INDIA BECOME INTERNATIONAL DIAMOND TRADING HUB
Jewelxy is one such commission-free platform that offers the best of Digital India, connects individuals of Gems and Jewelry industry and keep one and all updated with latest happenings and trends of the industry. Help your brands reach to the global audiences.
To stay updated with the latest news and trends, Register here.
Source: Business Standard