JANUARY BIRTHSTONE: HOW WELL DO YOU KNOW GARNET
January Birthstone
Birth Stone |
By: Ruchi Shah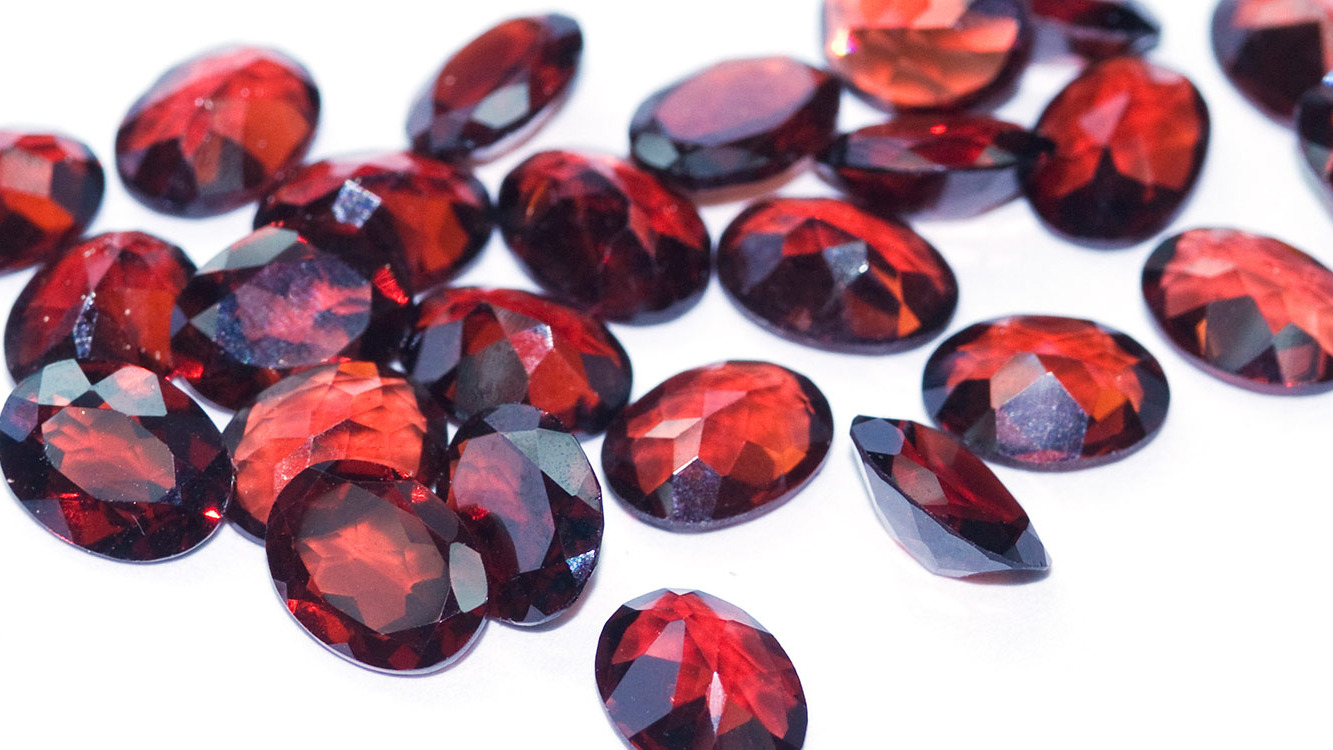 ---
The word garnet came from 14th century Middle English word "garnet" which means dark red. Latin word "granatum" meaning seed, this is because of their resemblance with the red seed of pomegranate.
In Victorian era January Birthstone i.e. garnet was the favorite gem of the elite. Red garnet has a long history, although these days garnets are available in various rich palette colors: oranges, greens, deeply saturated purplish reds and some even in blues. When we think of garnet, the color that pops up in our mind is red; this is because red garnets are the most abundantly available, others are much rarer. Tsavorite, a green garnet is the rarest of them all and isn't easily available.
IN WHICH COUNTRIES GARNETS ARE FOUND?
Garnets are actually a group of minerals with rainbow colors. Garnets are found in various countries such as: Thailand, India, Afghanistan, Iran, Russia, Kenya, Botswana, Tanzania and Brazil.
TYPES OF GARNET STONES
Color
Garnets are available in affordable dark red varieties, valuable greens which are very rare, and also various other colors in between. You can find everything ranging from blood red to orangy red to purplish red. They also sometimes go through color change which is a feature most often noticed in the rare gemstone alexandrite.
Some of the garnet birthstone types are subdivided further into varieties depending on color. For example, brilliant green variety of andradite, which is prized highly by collectors, is called demantoid. Hessonite is made from grossular tsavorite. Tsavorites are green while hessonites range from orange to orangish red. The purplish red variety is rhodolite - rare and very beautiful.
Clarity
The clarity of the garnet will depend largely on its type. Eye-visible inclusions are not present in almandine, pyrope, and rhodolite, whereas spessartine and hessonite has eye-visible inclusions. In beads, carvings and cabochons using grossular is popular because they are translucent.
Cut
To adjust garnet into different jewelries, they are shaped and cut so that they fit. This is done mainly on red garnets. To retain more weight from rough, expensive garnets are cut into shapes and cutting style. Demantoid is cut into exact proportions so that it allows the display as best as it can. Designers also cut and carve garnets. For beads and cabochons red garnets acts as classic material.
Weight of Carat
There are many size and weights in which garnets can be found. Tsavorite and demantoid are found mostly in small sizes, their value depends on their size. Almandine garnets are more commonly found in larger size, so their price remains quite constant.
FACTS ABOUT GARNET GEMSTONE:
Chemical Composition: Various aluminium and / or calcium silicates.
Mohs Hardness: 6.5 - 7.5
Refractive Index: 1.714 - 1.888
Birefringence: None
Specific Gravity: 3.47 - 4.15
BENEFITS OF WEARING GARNET BIRTHSTONE:
• Astrologically speaking, Garnet stone brings balance in life and helps eliminate negativities from the mind.• January Birthstone Garnets are associated with root chakra which is the life force in our body. Green Garnet however, has impact on the Heart chakra, whereas while Hessonite works on Sahashara Chakra.• It is said that Garnets help enhance the composure, strength, contemplation, and generosity in the wearer. It also fosters better relationships, especially, friendships.
• It is believed to work well in reducing mental stress and depression. It is believed to induce imagination and self confidence in the wearer.
HOW DO YOU CARE FOR AND CLEAN YOUR PRECIOUS GARNET STONES:
The chemical composition of garnet birthstone varies, in some you would find stronger atomic bond while in others comparatively lower. In Mohs scale of hardness, various type of garnets range from 6.5 to 7.5. So, they aren't as hard as diamond, rubies and sapphires. Therefore some of the garnets are considered to be fragile to be worn in a ring, but they are perfect to be worn on earrings, pendants and brooches.
You should be careful about storing them as well. Unlike diamonds, garnets can get scratches if they aren't stored properly, so make sure you store your garnets individually, enclosed in soft cloth. Garnets are also mostly not filled by glass-like substance to conceal fractures. Maybe this is because garnets are more affordable than diamonds and so they are easily replaceable. You can use warm soapy water to clean them. Steam cleaning is a complete no-no and ultrasonic cleaners are only used on undamaged garnets.
Garnets are often used to make beautiful gemstone jewelry in silver and often replace Rubies. At Jewelxy, it's easy to connect with verified Gemstone suppliers and Gemstone jewelry manufactures wholesalers and retailers to grow your Gems and Jewellery business by 10X in 2018. Start now.
Read Blog: Worlds Top 5 Places To Buy Gemstones at Whole Sale Price