Indian Gold Jewelry Designs Are Trending All Over The World
Gold Jewelry
Gold jewellery |
By: Ruchi Shah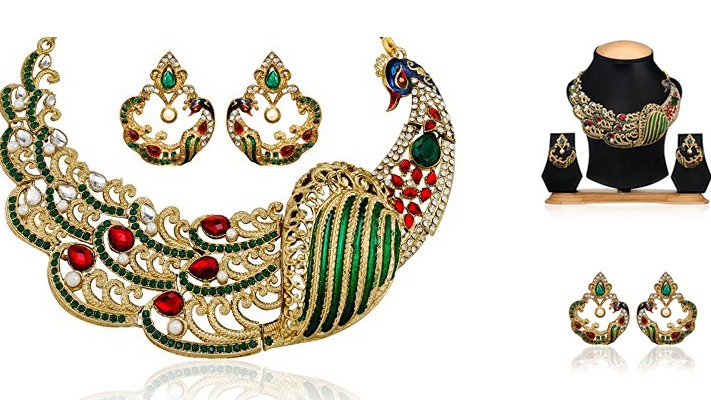 ---
India has always been the home to rich cultures and heritage. For centuries, her food, clothing, and jewelry have been an attracting people world-wide. Gold jewelry and their designs have been the centre of attraction since the age of Queen Elizabeth 1.
Titanic actress Kate Winslet was recently seen wearing Nirav Modi Bracelet and earrings on the red carpet while Jada Pinkett Smith made a gorgeous appearance at the red carpet wearing an India-inspired ethnic choker and earrings. Everyone had their eye on her gold choker and earrings. We figured out why people in India like to wear precious Jewelry…
a. Indian jewelry not only beautifies women but it is considered to be a matter of great security during a financial crisis. Indian women wear jewelry created with precious metals like gold, silver and diamonds to accentuate the feminine factor.Having a good collection of jewelry symbolizes power, good status and the immense wealth of the owner.
b. Wearing jewelry is not only a fashion statement.It has traditional values attached to it. There is a reason behind each jewelry piece worn by Indian women.
Gold Jewelry Designs are available in a wide variety in India since each state has its culture associated with it. Thus, every kind of jewelry is crafted accordingly to highlight the values of those traditions. The most common jewelry worn by Indian women includes maangtika, nose rings, necklace, earrings, mangal-sutra and bangles.
1. Maangtika: Tika is a chain with a beautiful pendant at the front to embellish forehead of the women and hook at the back to attach it to hair. A woman's forehead has a reservation chakra visualized to have two petals where the half-male and half-female. It symbolizes the final union where there is no division. In view of science, this union is the meeting of the male and female elements in nature at both the physical and the mental level.
The people outside India attending functions or events have started wearing maangtika as a style statement, but they too believe that wearing a beautiful jewelry piece could secure the bond of two people in love, forever.
2. Nose ring: Nose ring is said to be one of the most seductive jewels of all the jewelry. It has its integral importance and that is why it is one of the most important parts of traditional bridal jewelry. Keeping in view its conventional and scientific value, Aristocratic families get special nose rings created for the bride. It is considered the most auspicious jewel to be worn on the occasion.According to the theory of old Indian people, nose ring is also connected to emotional, romantic and sexual propositions of a woman. It is traditionally believed that nose-ringcan prevent a woman from being hypnotized due to its power to control the brain wavelength.
It has been the specialty of Maharashtrian people and a huge attraction for foreigners. There are gorgeously designed nose rings which also go well with western apparel such as jeans and skirts.
3. Earrings: Indian women prefer to wear earrings all the time. As per the famous legends, it is traditionally believed that evil spirits were believed to enter the body through any of its openings. A woman attains the state of complete wellbeing cervix, kidney and brain wise by applying the right amount of pressure in the right ear to which the nerve of the kidney is connected, the health of the kidney and the bladder can be taken care of.
The earrings inspired by India are now worn by people residing in USA, Dubai, Milan, Paris, and plenty of other places because of their bold and heavy look. The bold look has been the hot favorite of people. Celebs are routinely spotted pairing up traditional Indian gold jewelry designs with gowns and skirts to the Red Carpets.
4. Necklace: The necklace is a piece of jewelry worn near the heart. Wearing a necklace of stones is believed to bind us with their eternal powers. Since primitive times, necklaces, and elaborate ornamental collars were worn by women to bring good luck. The necklace is also believed to act as a protective ornament against hypnotizing attempts.
So, this neck ornament not only adds an exquisite look to a women's beauty but also acts as a potent restraint against effects of evil charms on virtuous maidens.
5. Bangles:A woman's beauty is incomplete without bangles. Bangles are available in attractive designs in the Indian market, to make a woman even more stunning than she already is. In India, a woman's beauty is considered incomplete without ornamenting with it. Apart from being an important ornament worn by a married woman, this ornament also has immense romantic connotations. The cute clinking sound of a woman's bangles expresses her presence and her wish to gain attention, which is made possible by the circular shape of the ornament.
6. Rings: Rings are worn by every woman – young, adult, married, unmarried but the difference between a normal ring and Indian rings are its crafted designs which are inspired by various flowers, animals and primitive clothes. The ring is worn on the 4th finger which is said to have nerve directly connected to brain cells. With metallic friction, women attain good health and get the confidence to handle life with ease.
Nowadays, rings of various stones are worn by women for various health benefits attached to a variety of gemstones. And this trend has started in countries outside India. People there also believe in the benefits attached to the gemstones according to their sun sign.
7. Mangalsutra: This is a signature necklace worn by married women as a symbol of love given to her by her man. It is believed to control body pressures as well as blood circulations in the body of the bride. This is a must wear for a married woman.
This is now worn by even non-Indian women who are married. They have made it a style statement to wear it on regular occasions and festivals like Indian women. They are the best made in the Rajasthan state of India which is heavily cultural and in Gujarat state where people are religious and spiritual with a bit of a modern touch.
Read Blog: Why is Gold Jewellery So Important in Indian Weddings and Festivals
8. Hip belt/Belly Belt:Hip belt is popularly known as belly belt. They are rarely used by women, usually during weddings or festive occasions. Nowadays, it is also used by many women in modern attires like jeans or skirt to add to their glam quotient. Scientifically, these belts are believed to prevent saturation of fat in the waist and help in maintaining a woman's figure.

More and more number of Gold jewelry manufacturers and retailers are now going for contemporary Gold jewelry designs to attract a larger pool of customers in India and overseas.
You too can make the most of this trend by registering your Digital Shakha on Jewelxy.