7 Advantages of Visiting Jewelry Trade Fairs and Exhibitions
CEO Talk
CEO Talk |
By: Mansi Soni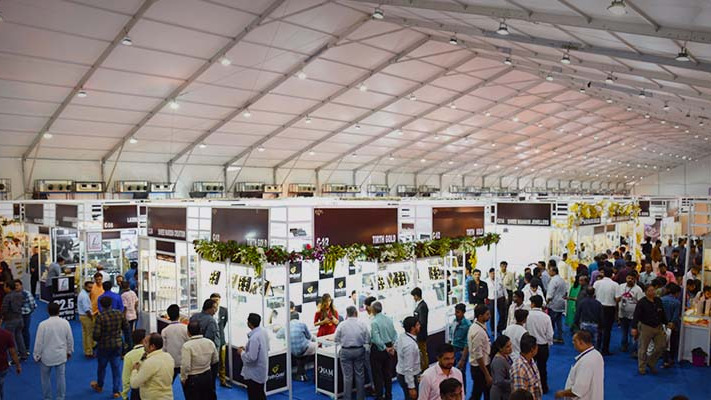 ---
Those who have been in the jewellery business for generations know that with changing times, you need to tweak the traditional method of operations and find the best ways to keep your business growing for generations more.
As a retailer, manufacturer, supplier or wholesaler, there are several advantages of visiting trade fairs and exhibitions. Based on the experience and research of the industry experts at Jewelxy, these are the seven important reasons why you should never miss on this exciting business opportunity around you:
1. Better Exposure To Trends and Resources
Trade fairs and exhibitions are the easiest way to scout the latest trending designs that your end customer is looking to buy. You can even check out their response on the latest designs and assess whether the public's response is hot, cold or lukewarm on the latest designs and product lines trending in the market.
In addition, once you have identified the types of products you can manufacture, showcase or simply sell, you will be easily able to gather the needed resources with optimum expenditure in the same trade fair.
2. Discover Latest Tools, Machinery and Technology For Faster Business
These are the best places to find out what your competition is doing, what makes them better, what does not work in their favour and the kind of designs you need to start focusing on. In addition, you get to discover the latest tools, machinery and technology that drive growth with speed in the industry. The abundance of amazing insight and fresh outlook will help you speed up your business growth in no time!
3. Build A Thriving Business Network
Not everyone is out to get you or outbid your business, and visiting trade fairs and exhibitions helps you with this reassurance. Not only does it become easier to find complementary businesses, other vendors, retailers, suppliers that can give you more business, it also becomes easier to grow with speed with such fruitful associations. Such meeting points help you build lasting business relationships.
4. Keep An Eye On Your Toughest Competitors
Each business has a set of challenging competitors they need to keep an eye on. It is imperative that you know what your competition is doing. This helps you build a strategy for the upcoming season that enables you to offer something unique to your customers. This is the best way to easily access their information. Attend business meets, talk to people and find out areas where you need to improve. Work towards faster and sustainable growth this way.
5. Get Publicity and Customer's Attention
Such events are high profile and attract the widespread attention of the Media. This is where you get a chance to tell the world your unique offerings, latest deals, offers and the value that you add to your customer's lives. It is important to stand out from the crowd to get such positive attention. Once you seize the moment, such publicity goes a long way to further cementing your reputation.
6. Upgrade Your Industry Knowledge
Sometimes as an entrepreneur we get so bogged down with the day to day challenges that we forget how important it is to keep upgrading our skills. That's where you can attend seminars; workshops and networking dinners which help you upgrade your skills. This way you can always keep your pace with the rest of the world.
7. Seek Solutions To Business Problems
By visiting trade fairs and exhibitions, you get access to several experts in the field of your choice. This makes for easier conversation and swift communication with artisans, strategy experts, successful businessmen, vendors, wholesalers or other retailers who you think would be willing to help you out. Make the best of this opportunity by being open, communicative and friendly. Add value to others around you and they will return the favour.
Read Blog: How Do Trade Shows Help Gems and Jewelry Buyers And Sellers
With Jewelxy, you get access to these amazing bedrocks oozing with exciting opportunities to get your business sustainable and growing with speed. Try the Meeting Point today.