How Do Trade Shows Help Gems and Jewelry Buyers And Sellers
Gems and jewellery trade shows
Gems and jewellery trade shows |
By: Ruchi Shah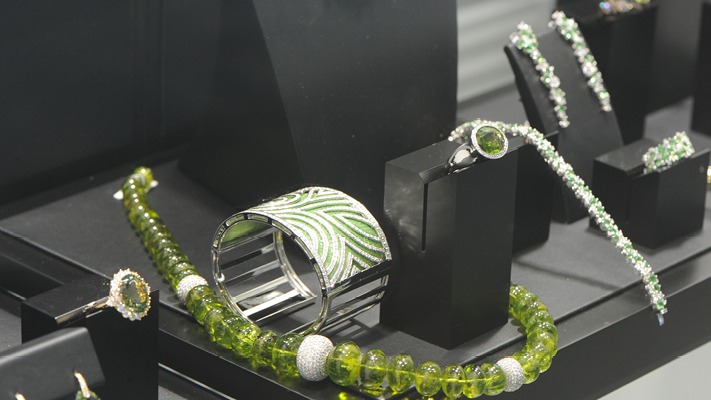 ---
Every industry showcases their products with the help of exhibitions and trade shows. Gems and jewellery industry is no different. In fact, it does more good to Gems and jewelry trade shows than any other. But how do you decide whether you should be spending your time and money on it? Do you know what the benefits of attending one are? Most importantly, what should you expect to get out of a trade show?
What Are Trade Shows?
A trade show is a structured exhibition where different companies in a specific industry come together to showcase their products and services. Trade shows may or may not be always open to the public. There are trade shows which can only be attended by company representatives and members of the press.
Trade shows are generally organized by trade associations, they can be regional, national, or at times International. As a part of knowledge exchange, some trade shows even include lectures and workshops about specific trade or skill. There can be discussions and reviews of emerging trends, challenges of the industry or marketing and merchandising ideas for jewelers.
Gems and jewellery trade shows feature designers, jewellery wholesalers, manufacturers, gemstones suppliers and related business such as jewellery cleaning products, packaging and retail displays.
What Are The Benefits Of Attending A Trade Show?
One Of The Best Reasons To Attend A Trade Shows Is Networking.
We are in times where seemingly simple things as socializing and networking is all what your business needs.
It is important to realize that you will be able to see and meet with a number of gemstones and jewellery suppliers and buyers in one place. That's what makes a trade show cost effective and efficient for your business.
Face-to-Face meetings and networking with various personnel of the industry is absolutely invaluable benefit of attending trade shows. A trade show brings together industry players to one place at the same time. This is much of a unique opportunity for you to build relationships with buyers, suppliers, retailers, wholesalers, customers, etc.
Trade shows offer networking opportunities, which are both formal as well as informal. When an opportunity occurs, you must use it to share your expertise, get your name out there and meet other professionals of the industry.
The Best Opportunity To Understand and Explore Latest Industry Trends
Where else but at trade shows you can find out what is new and trending in the gems and jewellery retail business. As people from various expertise of the trade unite at one place, you get to explore everything that is new and in demand at Gems and jewellery trade shows.
Trade Shows Also Serve As Convenient Educational Resources
An undermined benefit of attending trade shows is the opportunity for educational growth and awareness within jewellery industry. You might easily find interesting classes and workshops, which are usually presented by industry experts. Also, the range of topics could be as wide as from. How to use social media to grow your business to Know the latest wedding jewelry trends or something as simple as How to updating display and interior of your store.
How Do You Find The Right Trade Show For Your Business?
Not all trade shows are designed to fit your business expectations. Also, it also involves finances. It is rather important that you research and find the right shows that fulfil your expectations and help your business. You can try and ask fellow businessmen where they've attended and even investigate what shows your competitors are attending. This might somewhat limit you in options though, but there is also one simpler way to get this done.
A revolutionary tool JewelXpo, developed by Jewelxy has an in-built digital meeting point for jewellers across the globe, which does just that in an easy yet efficient manner. You can register here and see all the upcoming Gems and jewellery trade shows, events and exhibitions. Not just that, you get to enlist your own event or you advertise your own business. These quick pointers will help you understand Jewelxpo better:
It is a digital meeting point - one-point-destination to see upcoming events and connect digitally with exhibitors, hosts and visitors.
It brings together buyers, sellers and the G&J industry under one roof.
Sellers as well as buyers can search through exhibitors list.
You can book meetings with suppliers and potential consumers.
You can even use it to analyse you brand appeal.
The event host can attract global exhibitors, increasing footfalls and understand event traffic.
The exhibitors can gauge brand influence, invite new buyers and boost their brand.
The visitors can stay updated on the latest events, expand their business influence and discover the right suppliers.
If you want to reach out to a large number of new and unique jewellery and Gemstones suppliers, B-2-B customers, it's time you take up the leap and reap the benefits of going digital.
Gems and jewellery trade shows offer big benefits to jewellery retailers and dealers of all sizes. There is no doubt that trade shows offer an invaluable experience for retailers. Make sure your business gets there too. Register your business on Jewelxy and start using Jewelxpo now here.